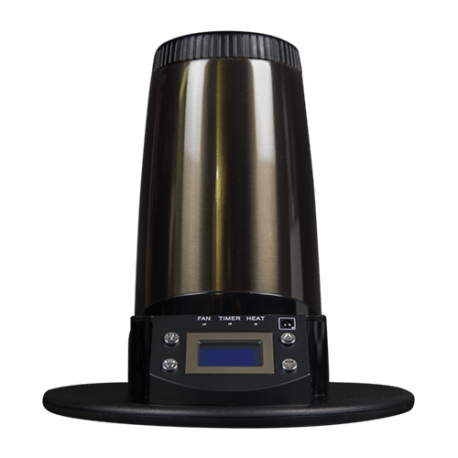 Adjust your Custom Session Settings at the push of a button, with quick access to commonly used features and settings. The convenience of the Remote Control quickly makes it a "Must Have" feature.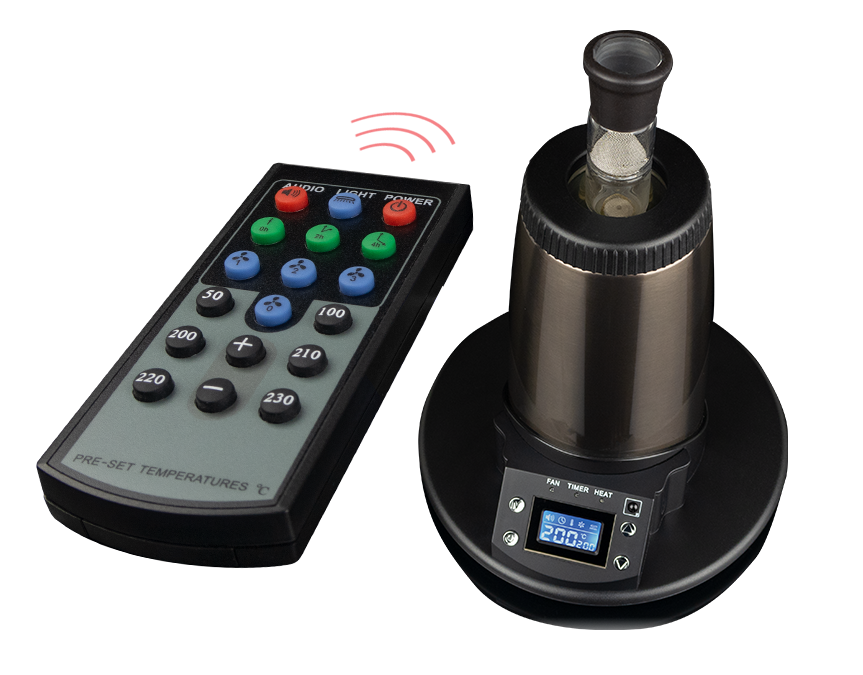 The choice is yours. Fill Balloons with thick vapor, use the Whip System for a direct draw (try using the fan and Whip together for assisted draw) or quickly freshen & set the mood with the Aromatherapy feature.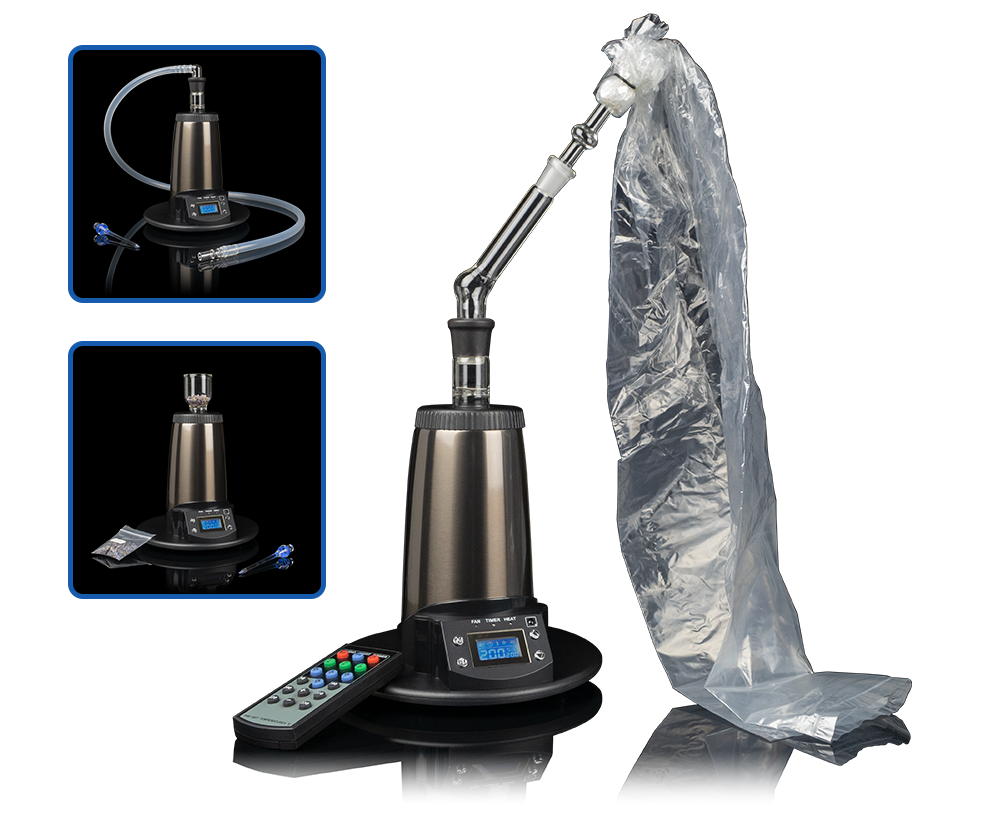 Easy To Use & Easy To Clean
User friendly parts and controls simplify your experience and make cleaning up a breeze.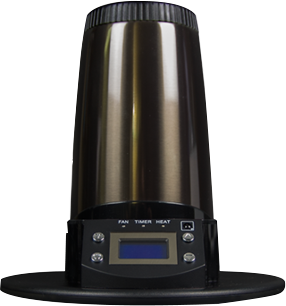 Precise Digital Temperature Control






Adjustable Auto Shut-Off Timer
1 x Extreme Q Multi-Purpose Heater
1 x Extreme Q Power Adapter
1 x Extreme Q Remote Control
2 x Extreme Q Glass Cyclone Bowl
1 x Extreme Q Glass Aromatherapy Dish
2 x Interchangeable Extreme Q Glass Whip Mouthpiece
1 x Extreme Q 3′ Whip (Silicone)
1 x Extreme Q All-Glass Mini Whip
2 x Extreme Q Balloon with Frosted Glass Mouthpiece
1 x Extreme Q Spare Flat Screen
1 x Extreme Spare Q Dome Screen
1 x Sample Aromatic Botanicals
1 x Extreme Q Owner's Manual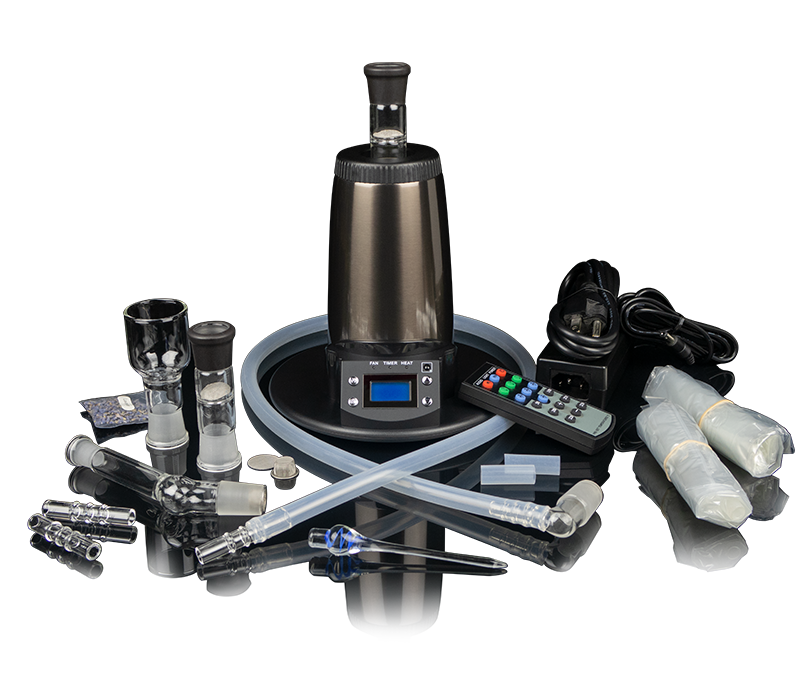 Check Out What People Are Saying About the Extreme Q
Read Reviews
Reviews
Had my first one for 15 years

I still have my first Extreme Q from 15 years ago. I just got a wild hair, and decided to buy another, even though I only need accessories. Couldn't pass on the $50 off deal. Thanks Arizer Team!

We've had the Arizer for once 6 years now, and no problem that a visit to their website couldn't handle. It is our companion over the years and has saved it's LITERALLY thousands of dollars. Not hundreds, but thousands! We'd be lost without our Arizer. Thank you from a medicinal user for this great product that had changed the way us old heads do things. Great product, great price! Would 100% recommend this to everyone!

Between testing and product inspections 25 of my working years were in quality assurance.  I'm very impressed with the quality, durability, and function of this device.  I was surprised at the glassware that came with it having priced and replaced glassware in the lab that had precision ground connectors.  When the screen is a little dirty and the bag is a little sticky I wish that the fan was a little stronger.  It helps to prop it up a bit so that the airflow doesn't converge in the middle which is restricting the airflow.  Lift it with the fan on and listen.  A small plastic scoop that I have left over from another pipe works very well to control the amount used when filling the bags.  I wish that the bags were a little bigger.  A turkey bag works much better for several people but is a bit difficult to attach.  The leftovers folded into a coffee filter and a bag of mint tea together works out very nicely.  Summary: Love it!   Wonderful product!   I liked the price too although I see they've gone up a bit now.  The ArGo also looks very impressive and is on my shopping list when my Haze needs to be replaced.   I can almost always see a way to improve something but it looks like they may have covered everything with that one.
Write a Review